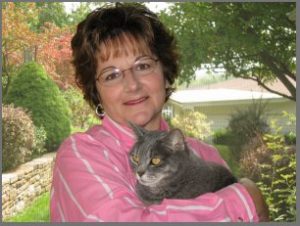 Janet M. Jackson, CRMT has been a student of the spiritual arts for 30 years or more. She is a Healing Energy Specialist; as well as a Certified Reiki Master/Teacher & Practitioner; an Angel Practitioner (Angel Readings); an Animal Communicator; and a Facilitator of Lightbody/ Merkabah Activation. Janet has been practicing Reiki since 1996 and actively teaching Reiki to hundreds of people since 2002. Her private practice includes energy healing work for people and animals.
Janet developed her own class entitled "Animal Reiki" wherein she teaches people to work with animals. She has also studied Healing Touch For Animals. Her healing experience and abilities have been enriched by her private animal practice as well as her volunteer work at shelters for dogs, cats, horses and farm animals, and she has been communicating with animals for many years. She maintains a private practice in Mt. Pleasant, Pennsylvania. Janet is a full time professional spiritual teacher, healer, and intuitive, facilitating personal transformation and spiritual growth classes, workshops, and retreats at various locations including her local Community College in Pennsylvania, Energy Connection Creative Healing & Learning Center in North Huntingdon, Pennsylvania. Janet was very excited to teach her "Animal Reiki" class at Lilydale Assembly in New York.
Janet is lighthearted and jovial with a great sense of humor and warmth. She is uniquely committed to the spiritual path and dedicates her life to the healing arts. She recognizes that we are all Divine Beings who, on occasion, succumb to the fear thoughts of a material world. She believes that assisting people in empowering themselves, by offering them tools to discover their own Divinity, will support all beings in remembering wholeness. Believing that all living things are connected to each other and the Divine Source, Janet is an advocate of animals, nature and the environment. Janet teaches classes based on energy healing for people and animals. She also does personal healing consultations for people and animals. Her classes and workshops assist people in: embracing their fears, discovering and embracing their own personal power, personal healing for themselves and their animal friends. Through extensive work and facilitation of the high energy of Lightbody/Merkabah activation, Janet Jackson and Kathy Duffy were lead to conceive and develop a "whole" new modality for self transformation, which they named "Lightbody® Reiki."
Will travel to offer workshops to meet your specifications.
Located south west of Pittsburgh, Pennsylvania, U.S.A. Workshops are offered at the Energy Connection Creative Healing Center in North Huntingdon, PA
(3 miles from the Pennsylvania Turnpike Route 76- Irwin Exit)
Janet can be reached by telephone (724) 547-7101 or E-mail: AnimalAngelLady@aol.com
Gift Certificates are much appreciated by your loved ones!
Cash, Checks and Pay Pal accepted